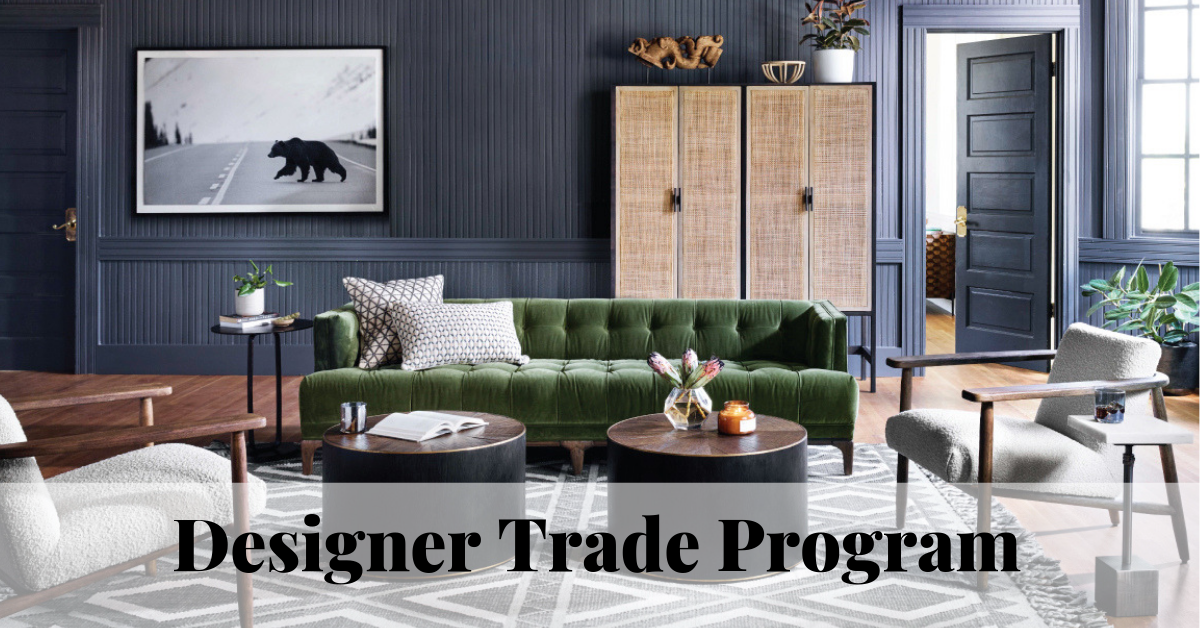 Becoming a Designer Trade member means you will:
Receive an exclusive discount on ALL items in our shop. We offer our Designer Trade members a tiered discount system. The more you spend at Reimagine Designs Inc., the more you'll save! No minimum requirements on any order. Our team is always happy to assist with any in-store or online purchases, invoicing, and shipping instructions.
______________
How it Works:
Each level status is determined by how much is spent each calendar year at Reimagine Designs Inc. (after promotional offers, and shipping charges are applied) when you enter your discount code at checkout that is registered to your Trade account. Please note there is 30-day delay in the spend calculation that places you in your tier status.
Frequently Asked Questions:
WHO DOES THE TRADE PROGRAM APPLY TO?
We provide To The Trade discounts to interior designers, interior decorators, architects, set designers or stagers, home developers and professionals in the hospitality and food and beverage industries. Above is a breakdown of the membership levels.
HOW DO I PLACE AN ORDER?
Orders and quote requests can also be made via email at info@reimaginedesigns.ca. Please allow up to 24 hours for a response or feedback.
IS THERE A MINIMUM ORDER QUANTITY?
There is no minimum quantity or dollar amount necessary to place an order.
WHAT SHIPPING OPTIONS ARE AVAILABLE?
For furniture, lighting and artwork pieces, please call or email us to confirm. White Glove Delivery is included at checkout for our larger furniture pieces under our handling fee.
ARE FABRIC AND MATERIAL SAMPLES AVAILABLE?
Rug swatches are available for a $25 fee; a refund will be issued if applied towards a rug order. For level 1 and 2 members, please contact a To The Trade representative for additional information.
WHAT IS YOUR RETURN POLICY?
Within 15 days of receiving your order, we are happy to issue a refund for any product with which you're not fully satisfied. After 15 days, we'll replace or refund your purchase against manufacturer's defects only. Returns are not allowed on any special-order items, custom-upholstered furniture or on items damaged through normal wear and tear.
To make a return please call (506) 472-6339 or email us at info@reimaginedesigns.ca.